Our dentists are accepting new patients at our downtown Windsor dental centre. The dental professionals at the Avenue Dental Centre look forward to seeing your smile.
Welcome to New Patients!
At the Avenue Dental Centre in Windsor, our dentists provide a wide range of dental care services for patients of all ages. Whether you have only been in the neighbourhood for a few weeks, or are a long-time Windsor resident, if you're looking for a new dentist, we happily welcome you into our dental clinic.
Your First Visit
On your first visit to our office, our team will review your dental and medical history, and perform a complete dental examination using our available dental technologies to help us assess your smile.
Following your assessment, we will develop a personalized treatment plan that meets your needs. We will discuss your current dental health with you and make some recommendations for treatment and maintenance.
This is also a very convenient time for you to have a thorough hygiene cleaning performed by one of our dental hygienists.
Your first visit will be approximately 40 minutes long.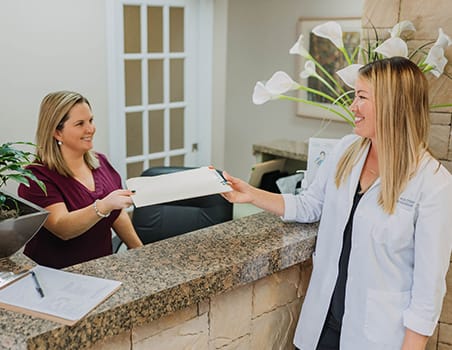 New Patient Form
Before your first appointment please make sure to fill out our New Patient Form.
*IMPORTANT: Any form submitted by email must be encrypted, to ensure it is secure. By submitting an unencrypted email form, you are consenting to an unsecured email. Alternatively, please print off the form, complete it, and bring it to our office.
About Our Practice
Our Windsor dental office has all the services and amenities you may need throughout your dental appointment.
Our practice is easily accessible with free parking for your convenience. We also offer flexible hours to accommodate your busy schedule.